University of California, Los Angeles, United State
Ph.D. in Statistics
Working at the Center for Vision, Cognition, Learning, and Autonomy (VCLA)
Department of Statistics
Advisor: Prof. Ying Nian Wu
The Center for Vision, Cognition, Learning, and Autonomy (VCLA) is affiliated with the Departments of Statistics and Computer Science at UCLA. We start from Computer Vision and expand to other disciplines. Our objective is to pursue a unified framework for representation, learning, inference and reasoning, and to build intelligent computer systems for real world applications.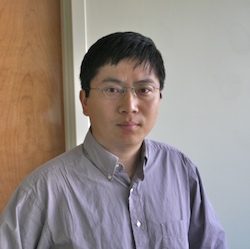 Professor Wu is a professor of Statistics in University of California, Los Angeles. He is interested in statistical modeling, computing and learning. In particular, he is interested in generative models and unsupervised learning.
GPA: 3.99 / 4.0 (First 4 Years)
Major Course grade A+ / A :
Applied Probability
Statistical Programming
Computer Vision and Pattern Recognition
Modeling and Learning
Matrix Algebra and Optimization
Modeling and Learning in Vision
Advance Modeling and Inference
Non-parametric Model
Probabilistic Programming
Statistical Computing and Inference
Machine Learning in Natural Language Processing
Shanghai Jiao Tong University
B. S. Eng. in Computer Science, Zhiyuan College
SJTU Excellent Bachelor's Degree Thesis (Top 1% in 3600 Undergraduates)
ACM Honored Class is a pilot computer science class in China.
Over the past 10 years, ACM students have received hundreds of honors and awards. ACM studnets won the ACM International Student Programming Contest World Championship for three times in 2002, 2005 and 2010.
ACM students has published more than 40 academic papers as the first author in the NIPS, WWW, SIGIR, SIGMOD, SIGKDD, ICML, AAAI and other important international conferences and journals.
Zhiyuan College, within Shanghai Jiao Tong University, is an institude that provides an Elite-education for our students. It aims to train them to become future leaders in science and in technology.
In order to be admitted to Zhiyuan College, a student must be on the top fo more than 17,000 undergraduate students within SJTU. Currently, 461 students are enrolled in Zhiyuan College.
By September 2016, 359 students have graduated from Zhiyuan College, 327 (91%) to pursue further studies, 273 (76%) admitted by world top 100 University listed in QS World University Ranking 2016, and 250 (70%) to pursue Ph.D. degrees.
Shanghai Jiao Tong University (SJTU), as one of the higher education institutions which enjoy a long history and a world-renowned reputation in China, is a key university directly under the administration of the Ministry of Education (MOE) of the People's Republic of China and co-constructed by MOE and Shanghai Municipal Government. SJTU has become a comprehensive, research-oriented, and internationalized top university in China.
GPA: 3.83 / 4.0 (Major GPA) (A+ = 4.3)
Major Course grade A+ / A :
Programming
Linear Algebra
Mathematical Analysis
University Physics
Science and Technology Innovation
Computer Architecture
Computer System
Course Design on Computer System
Cmputing Complexity
Machine Learning (Include Statistics)
Natural Language Processing
Database Systems
Lab Practice